Dashboard Offers Superb At-A-Glance Control For AdminBase Users
Although available as an option for some time on the original Cloud-based version of leading installer management system AdminBase, the web-based version launched last year, introduced to allow customers more convenient secure remote access to their company's data via laptop, tablet or home computer, includes a very slick Dashboard facility at no additional cost. And just as a car 'dashboard' is an essential part of a vehicle, designed to present all key information 'at-a-glance' to the driver, so is the AdminBase version.
The premise of the AdminBase Dashboard is simple enough: using what has become an intuitive understanding of what the colours red, amber and green indicate when used as a signal, users – who may be the Managing Director of the company through to the admin team – can summon up the Dashboard and gain a highly accurate view of as many distinct operations within their organisation as they choose to set up.
Green signifies the overall time allocated to complete a particular action, amber denotes that an action is still pending, and red indicates that it is overdue – as simple as that. With this information presented graphically in the form of pie charts, users can assess the status of active contracts quickly and efficiently. This summarised view is then supported with more detailed contract information listed for each chart, highlighting both individual contract values and the collective values of contracts sitting at each stage of the process – from initial enquiry right through to installation and remedial work.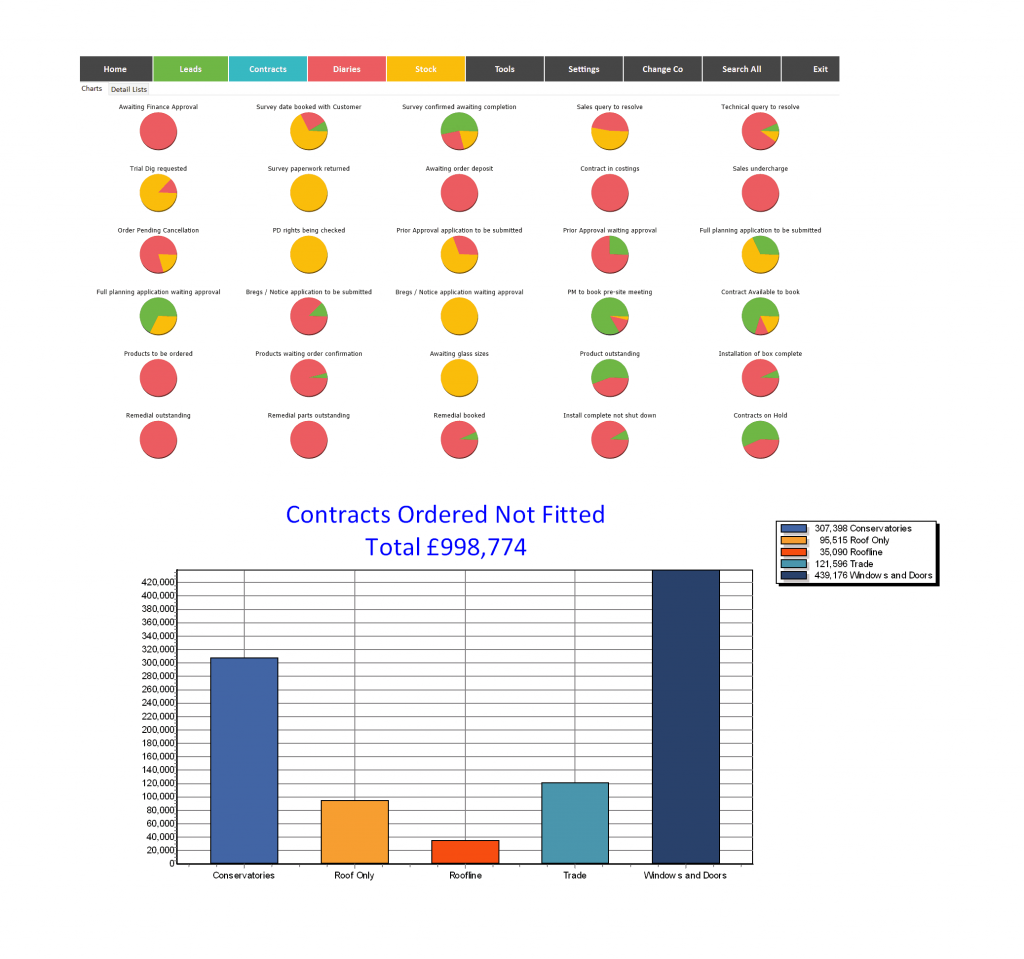 "The whole point of AdminBase is to give installers what they need to ensure they have full control of their business," said Ab Initio Managing Director Rhonda Ridge. "Dashboard is a simple, but highly effective tool that does just that. Rather than wasting time and effort manually keeping on top of how each part of a contract is progressing, the Dashboard does all the hard work for you, reducing the risk of bottlenecks and improving efficiency."
A strong advocate of AdminBase and especially the Dashboard feature, is Peter Wheeler, Managing Director of Ipswich based installer SEH BAC, which celebrates 50 years in business and operates 13 Show Centres in an area that includes Suffolk, Oxfordshire, Buckinghamshire, Hertfordshire and Essex.
Peter says: "The Dashboard and checklist notifications within AdminBase allow us to track a customer's order through our processes, providing each of our administrators with alerts to allow them to review progress. And as each stage is completed, at the click of a mouse button the system sends the customer an email or text update direct to their mobile device, to keep them informed of the progress of their order.
"This happens throughout the process, also including remedial works and right through to the account being paid and all works completed. We also use the Dashboard and automated notifications features within AdminBase for all aspects of processing conservatory orders for example, which also assists us in dealing with planning applications and permissions. All warranty work, such as it is, is also managed through AdminBase. The dashboard lead times are set to your requirements and you can write your own scripts to personalise them to your business; set up is also very user friendly," added Peter.
Take up of the web-based version of AdminBase has been especially strong during the past year, as installers have sought efficiencies within their businesses to cope with the additional pressures imposed by the pandemic in addition to strong sales volumes: "AdminBase, and especially the Dashboard feature, has allowed installers to manage their businesses more efficiently, especially the additional imperative of protecting customers and staff, and sales volumes that have been as much as 150% of budget for some installers," said Rhonda. The Dashboard update also includes the AdminBase data export service, Export Data Designer, and can integrate sales leads from an installer customer's own website, directly into the AdminBase system.
Categories: News Updates