In The Hot Seat: Dawn Griffin
Interview with Dawn Griffin, Account Manager, Ab Initio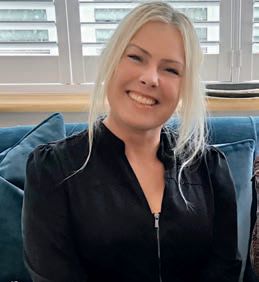 What was your route into the industry?
My early career was spent working in sales at Computer Centre head office, before moving on to become a Key Account Manager for Europcar.
Some years later I relocated to the South coast and took up a new position at Rightmove, during the company's early stages when the internet was first taking off. As the company grew within the marketplace, so did my role, which went from dealing with numerous single branch estate agencies to also including many large independents.
Unfortunately, due to the strain caused by COVID-19, I was made redundant after furlough with over 13 years' experience of working for Rightmove. It was at this point, having known Ab Initio's Managing Director – Rhonda Ridge – for many years, I was offered the opportunity to join her forever expanding business. With my professional stance as an account manager, and my upbeat personality, she felt that I would be a beneficial addition to the team.
What changes have you seen since then – good or bad?
Having only joined Ab Initio in October last year, I have not yet seen enough of the industry to be able to comment on any historic changes. What I will say though, is that this industry appears to have shown great resilience, flexibility and adaptability in the face of the changes brought about by the recent economic upheaval. I'm pleased to be a part of this industry as we move into a new year, continuing to support each other and our customers as we take on any obstacles that 2021 may bring.
How would you describe your role at Ab Initio?
As an account manager my core responsibility is to be in regular contact with our customers, providing Adminbase support, updates on any new features, and to also give advice on areas where AdminBase could be helping our customers' businesses further. I also handle many of our new enquiries, working with others in the team to organise customer demo and training sessions.
Alongside this, I oversee all of the day-to day elements of our marketing and PR activities, including social media and SEO strategy.
What's the most challenging thing about your role?
Right now, still being relatively new to the business, it is all the new learning I am undertaking to better understand the industry, our customers, and their businesses.
If you didn't work in this industry what job could you see yourself doing?
If I turned back the clock on my career and went another way, I would likely be based somewhere abroad – I love the sun – and in a role caring for animals.
What is a typical working day for you?
I usually start work at 9AM. Like most, I begin the day by checking through my inbox and responding to emails and any new enquiries. I then spend the majority of my time on calls to customers and updating our in-house databases. I also dedicate a few mornings a week to our PR and marketing activities.
What is your proudest moment, both personally and professionally?
At Rightmove, I was heavily involved with supporting our clients' digital advertising efforts and it was one of my highlights working for one of the best run portals in the world, rated as one of the UK's top 10 best performing websites.
Personally, I would say it is landing my dream home on the South coast as it is something that I have worked very hard for.
How do you like to spend your time away from work?
Away from work, I like to walk with my dog Cuba, spend time in my garden and socialise with my closest friends.
I also love to travel, which something I have really missed over the last year. I've been all over, to Costa Rica, Borneo, Thailand, South Africa, Mexico, New Zealand, USA… to name just a few.
Where do you see yourself in 5 years' time?
At Ab Initio, providing high-quality and dependable support to our customers, whilst helping our team to expand the business further.
Categories: News Updates